BabyOrganix Naturally Kinder
The Safest Wipes for Your Baby
Busy moms and dads take note! Have you or your child developed any mysterious rash in any part of your bodies? If so ,might as well check the labels of your wet tissues or baby wipes if they are the reasons for all the allergic reactions in the first place. If they are the cause,think twice before you use any baby wipes brand to cleanse your baby's bottom, face or hands.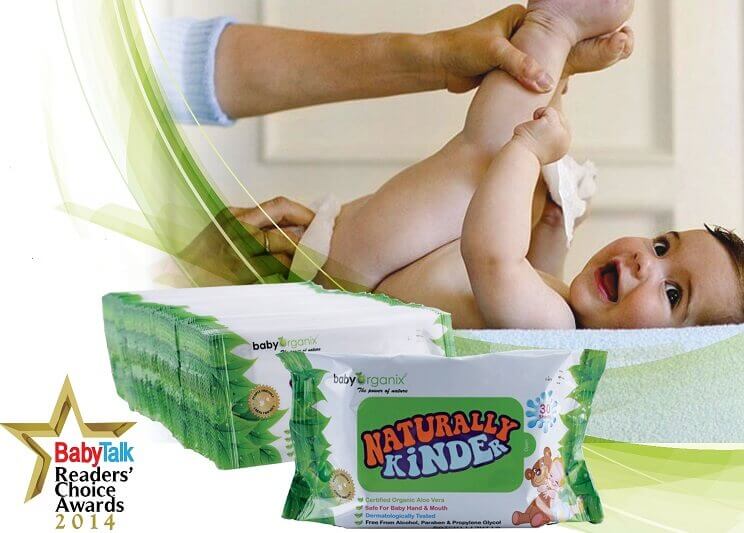 Baby wipes may look harmless,but these products contain preservatives,among other ingredients,that can harm the sensitive skin of babies. The recent findings warning the public of the preservative MIT(menthylisothiazolione) in baby wipe products that may potentially lead to severe rash for some babies and young children, is just one of them but there is more baby wipes than meet the eyes.
Without exception, baby wipe products are found to contain preservatives of one type or another to products against contamination by micro-organisms or bacteria. Although the European Union countries have banned their usage, on the quiet they have found their way into baby wipes sold at our shores, which is alarming.
THE 6 most common harmful preservatives in baby wipes
Parabens, such as methylparaben,ethylparaben,propylparaben,butylparaben and isobutylparaben,could be absorbed,metabolised and excreted,and could potentially contribute to adverse health effects.May lead to risk of cancer and contact dermatitis too.The European Commission has amended Annex ll of the EU cosmetic Regulation,adding five parabens to the list of substances prohibited in cosmetic products,inluding isopropylparben,isobutylparaben,phenylparaben,benzyparaben;and pentyparaben.
phenoxyethanol,The European Commission on cosmetic ingredients stipulates that phenoxeyethanol is toxic when applied to the lips or around the mouth,which is concering.It could cause vomiting,diarrhoea,dehydration,and central nervous system problems in infants.
MIT,Methylisothiazolinone is commonly used in products in conjunction with methylchloroisothiazolinone,a mixture sold under the registered trade name Kathon CG is allergic contact dermatitis.
Propylene glycol,may cause allergic contact dermatitis.
Cetylpyrieinium chloride,can cause skin irritation,rashes and a burning sensation in the mouth.It also can cause minor throat and mouth irritation.Cetylpyridinium choride also can irritate the eyes,stomach and gastrointestinal tract.
Ethanol,can cause stinging,or may cause allergies in babies.
Understandably,baby wipes are hygienic in appearance and very convenient,particularly for the busy parents.Concerned parents mindful over preservatives and other allergen found in baby wipes may consider the alternative of a dermatologist recommendation:use plain water with cotton wool for daily cleansing of baby's bottom.But if busy parents still want a baby-skin-friendly wet wipes, BabyOrganix Naturally Kinder should be the choice.
BabyOrganix Naturally Kinder-The Safest Wipes for Your Baby
Nappy rash skin needs the mildest possible gentle care.With this in mind, BabyOrganix Naturally Kinder baby wipes are made free from harsh chemicalas like parabens, Alcohol, SLS and Propylene Glycol. We only use Certified Organic Aloe Vera that helps soothe baby's sensitive skin. Our wipes are hypoallergenic and dermatologically tested-safe even when wiped on your baby's hand and mouth.
In the current world we live, chemicals are all around us. Thinking of how to care for our babies can be challenging but with conscious manufacturers like BabyOrganix around, it is assuring to know our babies are in safe hands.