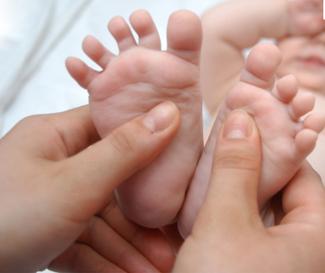 A delightful baby massage is a wonderful way to bond with your newborn baby and spend quality time together. It is another beautiful way to express your love. More and more studies now show that a loving baby massage may help support a healthy immune system, improve sleeping, relieve colic and even enhance an infant's intellectual development and motor skills.
---
Since skin is the largest organ in the body, touch is extremely important. The following preparation and useful techniques can assist you in giving your precious baby a spa experience!
How to Begin : You will need:
2 soft towels, a clean diaper, babyorganix baby massage oil Begin the baby massage when you and your baby are in a relaxed, calm state. The best time is usually before your baby's bath, at least a half hour after the baby has eaten. Sit comfortably on the floor with the soles of your feet together and form a diamond shape with your legs. Be sure to select a place without drafts and make sure the room temperature is a warm 78 degrees. Then drape a soft towel over your lap. Undress your baby, just leaving on a clean diaper and rest your baby on the towel over your legs so your baby will feel comfortable and secure. Cradle your baby's head with your feet. Then put some baby massage oil on your clean hands and rub them together so they will be soft and warm before you start. Your baby will not be happy if he or she receives a massage from cold hands! Then using massage oil for baby, begin with long gentle strokes from your baby's head to his or her toes. If you find that your baby responds well to the massage, proceed to gently massage your baby's body section by section. If your baby does not cooperate, simply massage him or her at another time.
While you massage your baby you may want to softly talk, hum, sing and/or play healing meditation music during the massage. To further bond with your baby, give your little one eye to eye contact during the baby massage. Note that techniques are not very important as long as your massage is in firm grip and gentle. Be sure your strokes are ticklish instead